Meah Hebrew & Religion School
Meah Hebrew & Religion School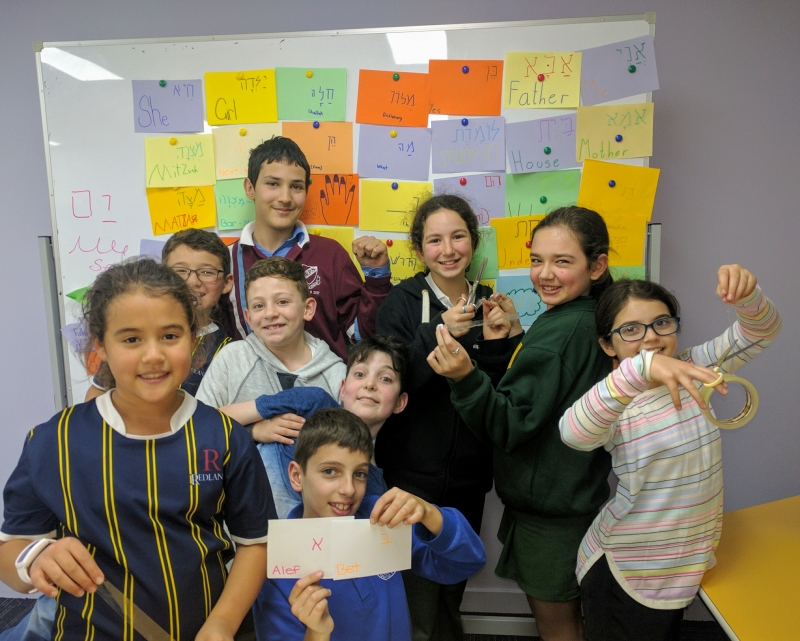 Enrolment Forms:
2019 Fees
About Meah
Following on from many years of successfully growing our Meah Hebrew and Religion School, towards the end of 2016 the Board of Directors made a strategic decision to invest in taking Meah to a new level of education, learning, and overall experience.
The position of Director of Education was introduced, and the feedback from students and families has been overwhelmingly positive.
Our Approach
Our Meah teaching team is passionate about creating an environment for our students that will encourage them to strive for their personal best and develop their interpersonal skills. We aim to nurture and motivate our students and encourage positive interactions with their teachers and fellow students.
Our Curriculum
We invested in an internationally recognised new Hebrew program called "Zman Likroh" which includes a two-module reading system and an additional activity workbook. Our Meah students are assessed in terms of ability in Hebrew. We currently have six streams. The desired outcome is that our older students are able to recognise the letters and sounds and read within a year. The younger age groups should achieve this over a two year period. All students keep their books as a personal resource for the future.
Our aim is to teach reading and ignite a passion for Hebrew as a living language, taught as Modern Hebrew whilst ultimately preparing them for their b'nei mitzvah celebration.
The Jewish Studies program includes booklets for each festival. The booklets include activities tailored to the different age groups.
In addition to the Sunday classes, our year 5 and 6 students also attend midweek classes, which are designed to complement the Sunday Hebrew program as the children approach their bar and bat mitzvah year.
Our Teachers
Our teachers are dedicated, committed, and passionate. They demonstrate a wonderful work ethic and plan each week's lesson using the teacher's manual, an integral part of the new curriculum. Lesson plans are overseen by the Director of Education, and team planning and review meetings are held fortnightly. These meetings have proven to be productive with the sharing of resources, techniques, experiences, and ideas being some of the major benefits and outcomes. The combination of structured curriculum, teamwork and oversight ensures a high quality of learning delivery.
Our Campus & Classrooms
In January 2017, we refurbished our school classrooms and acquired new magnetic mobile whiteboards, allowing a great deal of flexibility in classroom layout. In addition, special provision has been made for hanging the students' work and other posters in the classrooms that does not require the use of sharp objects.
The K-1 classroom is now a model early-learning environment, with chairs and tables that are conducive for five and six year old children. K-1 classes are now offered weekly instead of fortnightly. There is also a reader with a DVD and song for each letter of the Hebrew alphabet. Each child gets their own copy of the reader.
Another major initiative was to set up a room inside the classroom facility where the Director of Education is based. This space is now used as the resource room, and a printer, computers and desks have been installed. Resources needed for the school are also now always at hand. Teachers are able to get supplies and prepare lessons on site and liaise with the Director.
The Talmud says, "The world only exists because of the innocent breath of school children." It is incumbent upon us to strive to constantly improve the educational opportunities for our children. With that in mind, Meah delivers a very high standard of Jewish Education for our children, and at NSTE, education is one of our most important strategic pillars.
For more information, please contact the Meah Administration Team.
Testimonials
"Our boys had a wonderful year this year. They are always happy to come to school on Sundays and they bounce out of class 12pm. This really says a lot for the curriculum and the teachers. I know my own experience was very different growing up!
I hope the school will continue to grow and develop through the coming years."
- Lisa, Meah mother
DATES
2019 dates
To book for the Demonstration Seder click here
---
For more information, contact Cantor Ted Labow via email or call the office on 9419 7011.
If you wish to contact Meah after hours, please call 0416 688 911.
Sat, 25 January 2020 28 Tevet 5780