Walking Group
Walking Group
The Boomers & Beyond Walking Group meets on Thursdays (as scheduled).
The walks are relatively easy and typically three to four kilometres long. They are planned so that the group finishes at a suitable location for refreshments!
Walkers are encouraged to bring a hat, sunnies (if appropriate) and their own supply of water.
Bookings essential.
For more information, email Boomers & Beyond.
Reminder:
These walks are designed for fit Seniors, who can manage on both track and sealed pathways, with no walking aids. If you are likely to be slow or need help, it is your responsibility to bring a friend who can accompany you if you fall behind the group.
---
Next Outing

Thursday 17 October - Wollstonecraft to Waverton via Berry Island
Date: Thursday 17 October
Time: 10:00am to 1:00pm (approx)
Meeting place: Wollstonecraft Station, entrance, at 10am
Route: We will be walking from Wollstonecraft Station to Berry Island where we will have a guided tour of the historical Aboriginal relics, then walking on to Waverton via Balls Head Bay, approximately 4 kms. There are unpaved rough tracks and steps through the Reserve. Also this walk has uphill sections with steep steps via the Bay back to Waverton Station. We will stop for a coffee and schmooze for those who have time.
Bring: wear solid walking shoes, bring a hat and apply sunscreen, bring wet weather gear (in case) and Opal card for public transport.
In case of heavy rain on the day, the walk will be cancelled, phone Vera: 0431663124
Registration: Bookings are essential for insurance purposes, please register before 3.00pm Tuesday, 17th September, 2019. Please register via the NSTE office.
Proviso This walk has unsealed and rough tracks as well as steep uphill sections with steps. It is designed for fit Seniors, who can manage both track and sealed pathways, at a reasonable pace, with no walking aids. If you are likely to be slow or need help, it is recommended you come with a friend who can accompany you.
Recent Outings
Thursday 19 September - Rainy day coffee and schmooze catchup at Norths
Thursday 22 August - Neutral Bay
to Milsons Point via Kurraba Point
Thursday 20 June 2019
Given the heavy rains of the previous days, we were very lucky with our walk last Thursday - a little crisp in temperature but brilliant sunshine and little wind! We had our share of aerobic exercise up the rather steep slope of Walker Street, but we were rewarded with the magnificent view of Sydney Harbour once we reached the overpass.
A special treat was provided by Diane Ford who kindly hosted morning tea in her current home on the 36th Floor in a local apartment block, where we could again admire the view. As always, conversation flowed and a very pleasant time was had by all, combined with healthy exercise and the enjoyment of our surroundings.
Hope to see you at the next walk, most likely in August, as many people are overseas or committed to childcare during the school holidays next month.
Thursday 16 May 2019 - Birchgrove to Balmain
Last Thursday, a beautiful sunny day, 17 of us enjoyed the walk from Birchgrove to East Balmain. The ferry ride from Circular Quay took in our beautiful harbour and in a few minutes we had arrived at Birchgrove Wharf. We walked through the narrow streets and saw the old workers' cottages in this once highly industrialised area. The former Caltex site at Ballast Point has been preserved as parkland and will be further developed for public use. The "Dry Dock" Hotel was reminiscent of the past landuse, with many dockyards along the foreshore to cater for the extensive shipping trade.
We enjoyed the "village" atmosphere of Darling Street and the many corner shops and enjoyed coffee, refreshments and schmooze in the refurbished old Balmain Bowling Club, providing a "boost" to the local economy. Then for the last section, we headed to Balmain East Wharf for the ferry trip back to Circular Quay.
Thanks to all who came along, and hope to see you for our next walk on Thursday, 20th June, 2019.
Thursday 21 March 2019
Our group of 20 is to be congratulated for venturing out into the morning rain for our walk from Manly Wharf to Queenscliff and return.
After the initial downpour, we were rewarded with bright sunshine and clear skies and the brilliant vista of the unbroken stretch of beach as we walked along the foreshore. How beautiful is this landscape and how lucky we are to live in this city!
It was very pleasing to welcome more newcomers to our group and also pleasing to see our loyal Easties who travel long distances by public transport to come to the Northside. It's wonderful to see the network of friendship expanding!
On our return walk we stopped to see the extensive urban development along the edges of Manly Lagoon.
As usual, we finished with a coffee and schmooze where we enjoyed catching up and renewing friendships.
Tuesday 27 November 2018
A balmy, sunny day provided the perfect weather for our group of 26 keen participants for the Double Bay to Rose Bay stretch.
Most of us met at Circular Quay to catch the ferry to Double Bay - a short but beautiful journey. Then we walked via some of the back streets of Double Bay, part of Point Piper and detoured to Redleaf Pool to look at the magnificent view.
Thank you to our Eastern suburbs friends, particularly Evelyn Palmer, for providing historical background to some of the interesting landmarks.
The path along New South Head Road allowed us to gaze at the sparkling harbour, dotted with various sized yachts and boats.
As always, we enjoyed not only the fresh air and exercise, but meeting up with friends over coffee and snacks. It is particularly nice to welcome new people and establish new friendships.
I look forward to joining with everyone for Boomers' walks in 2019, on Thursdays.
Tuesday 23 October 2018
Thirty-two happy walkers enjoyed the beautiful sunshine for our walk around Balls Head and the bushland area on the peninsula. With every turn we saw the sparkling harbour; busy with ferries and boats of all sizes. On arrival at the Coal Loader, we were greeted by our guide, who gave us a short lecture on the role of the centre and its services to the community, plus information on sustainability.
We then had a tour of the adjacent, newly built parkland area and saw the community gardens, extensive solar panels, and the old wharf waiting to be demolished. What a contrast the present scene must be to the past, when this area was a busy industrial port, and used for loading coal, with machinery operating day and night.
How lucky we are that the area is now preserved for the public to enjoy.
Tuesday 24 July 2018
Twenty-three hale and hearty participants joined the tour led by North Sydney Council historian, Ian Hoskins.
Our tour of the St. James Rest Park, which had previously been used as a cemetery in the 1800s, revealed tombs of people who were amongst the early settlers in the area. Many surrounding streets and suburbs on the North Shore are named after these people.
Although we didn't do as much walking as anticipated, Ian Hoskins' enthusiasm and passion for his subject made the time pass very quickly and we learnt a lot about the history of the area.
Most of us went on to enjoy refreshments, have a good schmooze, and welcome the newcomers.
- Vera Cranston
Tuesday 19 June 2018
Unfortunately for the 22 keen walkers who had registered, the wind and pouring rain forced the cancellation of our planned walk in Hunter's Hill on Tuesday morning.
However, not wishing to miss an opportunity, several of us met mid-morning for coffee and schmooze.
As always, there was plenty to talk about, and as has happened before, people found common ground, either through family or mutual friends. That's the beauty of our Jewish heritage.
-Vera Cranston
Tuesday 22 May 2018
We were met with brilliant sunshine and perfect weather for the Hermitage walk, starting at Nielsen Park.
With 23 participants, it was great to catch up with our regulars, as well as meeting some new people who were keen to step out and keep fit. As always, old friendships were re-ignited and new friendships were struck.
It was especially nice to welcome Rabbi Nicole to the group!
The walk proved to be quite challenging as it included many twisting flights of uneven steps; many built of rough sandstone blocks.
However, we were well-rewarded with magnificent views of the Harbour from every turn, as we proceeded along the foreshore track.
We stopped briefly at the old Hermitage building, which is currently being renovated and restored, and then walked to a higher point on Vaucluse Road to see the vista of the Harbour.
On our return to Nielsen Park, most of us stayed on for a schmooze and enjoy coffee and refreshments at the cafe on the beach.
Everyone agreed it was a magnificent day!
-Vera Cranston
Tuesday 24 April 2018
It was a beautiful, sunny Autumn day for our cultural tour of Barangaroo. The view of Sydney Harbour was spectacular from every point on this peninsula, and it was fascinating to learn of the variety of ways in which our Aboriginal people used the native resources, but never exploited these beyond their needs.
Our indigenous tour guides introduced us to some of the 75 species of plants native to this area, and demonstrated how these have been used over thousands of years, not only as a food source but also for hunting and for medicinal purposes. The leaves were also used for weaving containers and baskets.
We learnt about the sandstone sourced locally and used extensively in the landscaping of the current reserve. We were shown paintings of the area as it looked at the time of colonisation and an artist's impression of the finished landscape when all the buildings have been finished.
Most interesting, we learnt that "Barangaroo" was named after an indigenous lady, with a strong personality, living at the time of Captain Arthur Phillip.
We all agreed that next time we "acknowledge land and country", we will have a better understanding of what this means.
It was a superb outing, finished as usual with schmooze, coffee and snacks nearby.
- Vera Cranston
Tuesday 20 March 2018
Not too hot and not too cold - perfect weather for our walk from Spit Junction to Balmoral Beach. We admired the view from high up on the hill, but nothing could match the unspoilt beauty of the beach as we walked along the Esplanade. Some of us could remember coming to this beach as children; it was a favourite meeting spot for our parents.
Our ascent back up to Mosman Junction was quite steep, but to everyone's credit, we finished in good time, and no-one took the shuttle which was available if necessary.
At the end of our walk, we enjoyed a cup of coffee or tea and a good schmooze.
We were pleased to welcome a couple of new people to the group. What could be better than being out in the fresh air, doing some healthy exercise and enjoying each other's company?
- Vera Cranston
Tuesday 27 February 2018
Although it had been raining for the previous 48 hours, we had a magnificent sunny day for our walk from Meadowbank to Rhodes. We crossed the Parramatta River, via the old railway bridge - now used only by pedestrians and cyclists. We enjoyed a coffee and schmooze in the large Rhodes shopping centre, where some of us had to leave to take the train back home. The rest of us a walked along the foreshore of the river, observing the many high rise buildings that now line the river bank on both sides, before returning to Meadowbank.
On each of our recent walks, new people have joined in, sometimes meeting old friends from many years ago.
Whilst we were out of our usual territory, the important things remained the same:
- good exercise
- good company
- good scenery, and a
- good feeling of being with people of shared background and interests.
- Vera Cranston
Tuesday 12 December 2017
Our NSTE Boomers' Walking group enjoyed perfect weather and a wonderful tour of the heritage listed Cockatoo Island on Tuesday 12 December.
Surrounded by Sydney Harbour, our view from every angle was superb as we walked from one historic site to the next. Our Education guide provided excellent historical details.We admired not just the natural beauty, but also seeing this busy working harbour.
We were delighted to welcome 4 international visitors to our group, and, as always, the conversation flowed.
People enjoyed not just the sights, but each other's company.
We look forward to our next walk in 2018, and suggestions are most welcome.
Thursday 23 November 2017
A sunny day with a nice breeze provided excellent conditions for our Boomers' walk from Milsons Point to the Rocks area, via the Harbour Bridge.
Our group of 16 walkers enjoyed the glorious view as we crossed the Harbour, while having animated conversations amongst friends. We had refreshments at a French cafe, before heading home, some back East, and others back across the Bridge, heading North.
Everyone had an enjoyable day!
Thursday 26 October 2017
We had 17 people join us at today's Boomers' Walk from Circular Quay to Botanic Gardens.
It was a perfect Spring day when we met this morning. Beginning at Circular Quay, we walked via the Opera House into the Botanic Gardens, continuing along the path by the water's edge, past Lady Macquarie's Chair. How magnificent is the view of the harbour from every angle. Then we re-entered the Gardens heading towards the Palm Grove Centre, then up to the Domain.
We stopped for refreshments in the Palm Grove in the middle of the gardens, with the spring wild flowers in full view, and contrasting with the beautifully manicured gardens of annuals.
How fortunate that the early governors of Sydney had the vision to plan this oasis in the middle of this huge built up city.
Everyone enjoyed both the walk and each other's company.
"Hi Vera,
Once again a most enjoyable walk managed and planned so beautifully by you.
It is always a pleasure to walk amongst nature chatting to different people whom we may have otherwise never met.
And your power over the weather is amazing."
-Susan Levy
Thursday 24 August 2017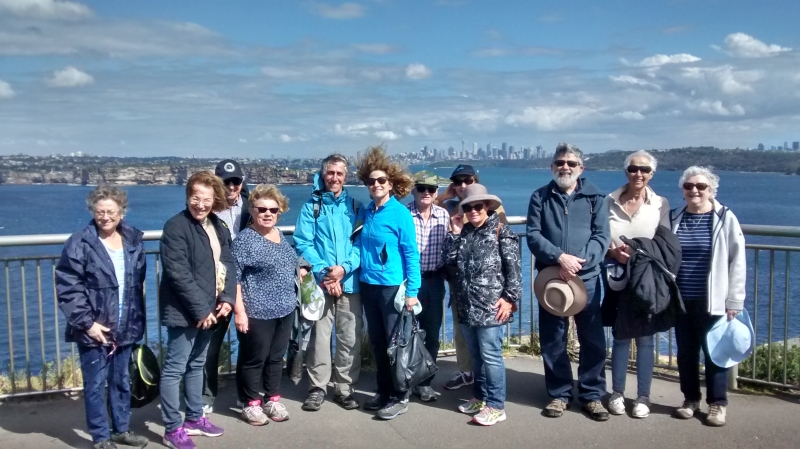 Our 13 hardy Boomers & Beyond walkers braved the gusty winds to do the North Head Sanctuary walk on Thursday 24 August - and were rewarded with brilliant sunshine and the scent of new wildflower blossoms.
We walked along some precarious, but protected, tracks to do a circuit of the headland, formerly used as an Army Barracks and Quarantine Station.
The backdrop of the harbour and the vista that surrounded us from every angle was awesome. From the eastern most lookout, we could gaze across the deep blue of the Harbour to South Head and due west along the horizon to Chatswood (couldn't quite make out NSTE - too many high rise!).
As in the past, old friendships were rekindled with 2 walkers recognising each other from Habonim - some 50 years ago!
We all enjoyed coffee and refreshments at the local cafe after our walk, an opportunity to schmooze and enjoy each other's company.
Please note: There will NOT be a walk in September, as the due date is the day before Kol Nidre. Our next walk will resume on Thursday 26 October 2017.
Thursday 27 July 2017
A crisp winter's morning with brilliant sunshine provided perfect weather for our Boomers' Walk around Balls Head Reserve and the Coal Loader site on the foreshore at Waverton. There were 13 in the group, including 2 visitors from USA.
Whilst the site was a busy industrial area from the early 1900s, today it is public parkland, still being further developed for recreational use.
Evidence of the enormous gouges in the cliff face to accommodate the oil tankers at the old BP site, indicated the industrial activity in the area for distributing both oil and coal by ship.
At the Coal Loader, we were fortunate that the Co-ordinator, Danielle, gave a short lecture on its background with a tour of the site. It is now dedicated to Sustainability of the Environment and community activities are very much encouraged, by North Sydney Council.
Combining a healthy outdoor activity with points of geographical and historical interest, blended with social schmooze worked very well, and we enjoyed each other's company over coffee and refreshments at the cafe.
Thursday 25 May 2017
20 happy walkers were blessed with a beautiful sunny day for our scheduled walk around the Rocks area this morning. We were told about points of historical interest by our learned historian, Bob Selinger, as we walked down to Dawes Point, then back to the Argyle centre. Once again, everyone enjoyed the company of old friends and new acquaintances. Although our backgrounds are so varied, and we come from many different countries, again the common thread was our Jewish heritage, and the unspoken trust that this engenders.
Our walk ended at the MCA cafe, where we indulged in coffee, snacks and more schmooze. Delightful!
Tue, 22 October 2019 23 Tishrei 5780