Film Group
Film Group
The Boomers & Beyond Film Group meets once every two months, usually at 5pm on Sunday evenings.
Chosen by the Film Group Sub-Committee, we view films that generally have a Jewish theme and are introduced by knowledgeable congregant members. A light supper and discussion session follows each film.
For more information, email Boomers & Beyond and keep an eye on this page for updates.
---
Next Screening
Movie: A Matter Of Life And Death
Date: Sunday, 19 July, 2020
Time: 5:30 PM - 6:30 PM
Join us for another stimulating and enjoyable Boomers Zoomers event.
We will be discussing the film: "A Matter Of Life And Death" available free for viewing on SBS on Demand HERE.
This classic 1946 British film, starring a young David Niven, was way ahead of its time. It combines a love story, fantasy, medical triumph and politics — It's a feel-good movie to be enjoyed by all.
John Polgar will introduce the film and lead the discussion. We look forward to repeating the great success of our recent, first ever, Boomers Zoomers' Film Group event.
Register for the event HERE.
---
Recent Events
Sunday, 21 June 2020
Hosted by Rabbi Nicole, the Boomers Zoomers Film Group held its first virtual meeting on Sunday 21 June to discuss the 2006 Academy Award winning film, The Lives of Others. 28 Zoom participants, accounting for over 40 people, joined us to hear Dr Don Perlgut give a précis and commentary on the film which included referencing some privacy issues still endured by citizens of many countries. Peter Schlesinger spoke about his family's experiences of having an aunt living in East Berlin in the period covered by the film. And Peter Balint recounted personal experiences of his life under a communist regime in Hungary. This was followed by a lively Q&A session moderated by Rabbi.
The success of this event led to a unanimous vote to continue with Zoom discussions as long as COVID 19 restrictions remain. Our next discussion is scheduled for 19 July when we will discuss the 1946 award winning film A Matter of Life and Death, starring a very young David Niven.
Sunday 23 February
The movie 'The Reader' was screened at NSTE. Based on a novel by Bernard Schlink, this multi-award winning film stars Kate Winslet, David Kross and Ralph Fiennes. It is an intriguing and fascinating movie that tackles challenging themes including long-kept secrets, guilt and the Holocaust.
Sunday 15 December
An enthusiastic group of Boomers came together last week to watch the highly entertaining movie "Cactus Flower". It was agreed that the stars Walter Matthau, Ingrid Bergman and Goldie Hawn were all deserving of the accolades they received.
Film Group Coordinator, Peter Schlesinger, complimented the committee for the dedication and work they put in to bringing interesting films to the Temple and making our functions enjoyable for our audiences.
Sunday 27 October
We had a successful function on Sunday 27 October, screening 'As Good As It Gets', with 29 attendees, well outstripping the 4 who had registered! After a few technical issues, we got the film going and all up the night was enjoyed by all.
Sunday 30 June 2019

Full House For The Chosen. 
A record number of regular and new movie-buffs attended the Boomers' screening of The Chosen held at the Frank Wolf Community Hall on Sunday 30th June. The moving and thought-provoking issues raised by the film provided participants with plenty to talk about as they shared their personal responses to the viewing over a cuppa. Invited guest speaker, Dr Simon Holloway, biblical and Hebrew scholar, currently a member of the Jewish Museum Education Team, provided us with valuable background information on Chaim Potok, author of the Chosen. Simon also interestingly addressed the key differing views raised in the film by the charismatic Chasidic rebbe (Rod Steiger) and his counterpart . Please note, that as with all previously screened films by the Boomers, the Chosen DVD has been donated to the Temple Library for personal borrowing
Sunday 28 April 2019
About 50 people attended our last film Guess Who's Coming to Dinner. Human Rights Commissioner, Ed Santow addressed the group on some of the issues that came up in the movie and an interesting discussion and explanation about human rights ensued. Mr Santow received a heartfelt ovation from those present and joined participants for refreshments and a continuation of discussions.
We look forward to our next film The Chosen based on Chaim Potok's book of the same name. It will be shown on 30 June at 5:00 pm. Please keep the date free and watch for the announcement of the Guest Speaker for that event.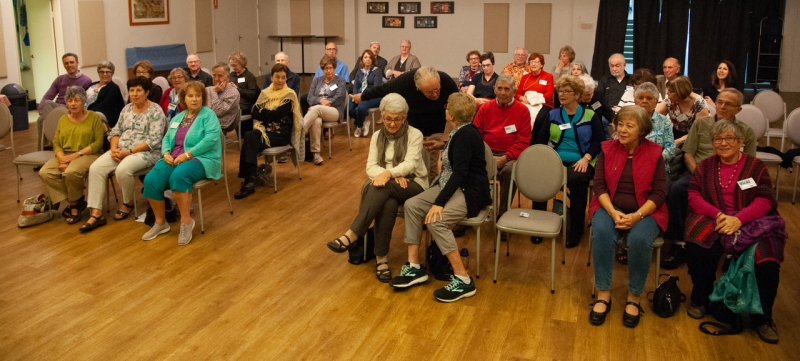 Sunday 21 October 2018

Over 30 participants joined us to see the film, Monsieur Lazhar, which was introduced by John Polgar who also conducted the lively discussion after the movie. It was a film that resounded with everyone and had people continue the discussion over refreshments. Importantly, many people asked when the next film afternoon would be held. Thank you John, thanks to our catering group for arranging delicious nibbles, and thanks to the rest of the committee who ensured that the afternoon ran smoothly.
Fri, 10 July 2020
18 Tammuz 5780
Today's Calendar
---
Upcoming Programs & Events
---
This week's Torah portion is

Parashat Pinchas
Erev Tishah B'Av
View Calendar
Fri, 10 July 2020 18 Tammuz 5780