Film Group
Film Group
The Boomers & Beyond Film Group meets once every two months, usually at 5pm on Sunday evenings.
Chosen by the Film Group Sub-Committee, we view films that generally have a Jewish theme and are introduced by knowledgeable congregant members.
A light supper and discussion session follows each film.
For more information, email Boomers & Beyond.
As Good As It Gets
Dear Friends: Do join us on Sunday 27th October at 5pm for the Boomers' viewing of the multi-award movie: As Good As It Gets
Jack Nicholson gives an Academy Award winning performance as Melvin Udall, an acid-tongued obsessive-compulsive romance novelist with Manhattan's meanest mouth. But when his neighbour Simon (Greg Kinnear, nominated for an Academy Award for Best Supporting Actor) is hospitalised, Melvin is forced to look after Simon's dog. And that unexpected act of kindness - along with the daily exchange of insults with Carol the waitress (Helen Hunt) – helps put Melvin back in the human race.

Dr Adrian Allen, a clinical psychologist who specialises amongst other disorders in OCD (obsessive-compulsive disorder) will be our guest. He will comment on the movie, on OCD and answer questions from the audience.
Date: Sunday, 27 October
Time: 5:00 pm to 7:30 pm
Location: VJ Hall - light refreshments will be served
Registration: Pre-registration for security and catering purposes is highly recommended
Further information: contact Peter Schlesinger on: 0411 641 338
Recent Events
Sunday 30 June 2019

Full House For The Chosen
A record number of regular and new movie-buffs attended the Boomers' screening of The Chosen held at the Frank Wolf Community Hall on Sunday 30th June. The moving and thought-provoking issues raised by the film provided participants with plenty to talk about as they shared their personal responses to the viewing over a cuppa. Invited guest speaker, Dr Simon Holloway, biblical and Hebrew scholar, currently a member of the Jewish Museum Education Team, provided us with valuable background information on Chaim Potok, author of the Chosen. Simon also interestingly addressed the key differing views raised in the film by the charismatic Chasidic rebbe (Rod Steiger) and his counterpart . Please note, that as with all previously screened films by the Boomers, the Chosen DVD has been donated to the Temple Library for personal borrowing
Sunday 28 April 2019
About 50 people attended our last film Guess Who's Coming to Dinner. Human Rights Commissioner, Ed Santow addressed the group on some of the issues that came up in the movie and an interesting discussion and explanation about human rights ensued. Mr Santow received a heartfelt ovation from those present and joined participants for refreshments and a continuation of discussions.

We look forward to our next film Th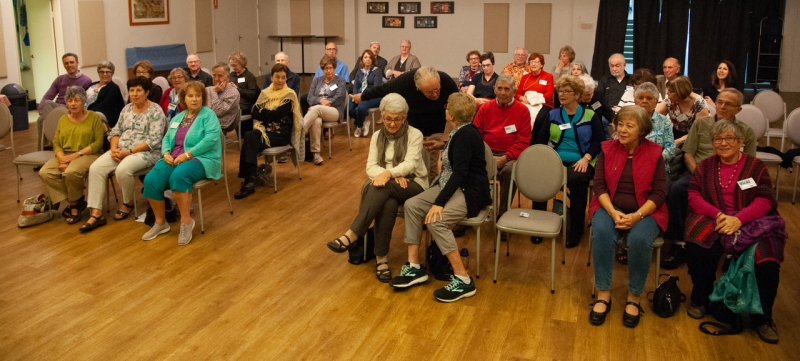 e Chosen based on Chaim Potok's book of the same name. It will be shown on 30 June at 5:00 pm. Please keep the date free and watch for the announcement of the Guest Speaker for that event.
Sunday 21 October 2018

Over 30 participants joined us to see the film, Monsieur Lazhar, which was introduced by John Polgar who also conducted the lively discussion after the movie. It was a film that resounded with everyone and had people continue the discussion over refreshments. Importantly, many people asked when the next film afternoon would be held. Thank you John, thanks to our catering group for arranging delicious nibbles, and thanks to the rest of the committee who ensured that the afternoon ran smoothly.


Sunday 24 June 2018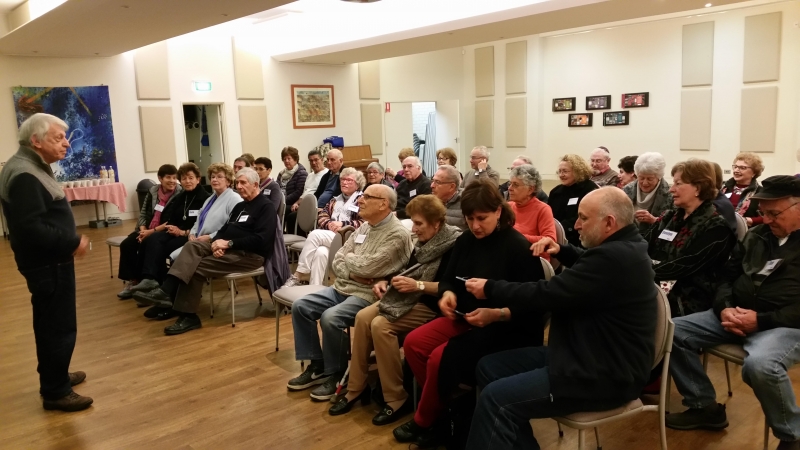 Almost 40 people attended the showing of Crossing Delancey with our Boomers' Film Group on Sunday.
All those present agreed that the film, ably introduced by Leo Goorevich, was joyful and the kind of film we should show from time to time.
Discussion continued for some time over light refreshments organised by Susan Levy. Gwen Harrison, NSTE President, drew the lucky door prizes, the first of which, a can of pickled cucumbers (to honour the movie) was won by Barbara Woolf and the second, the DVD of crossing Delancey, was won by Meira Marks.

Be sure to keep the date free for our next film afternoon on 26 August at 4:00 pm!
Sunday 25 February 2018
We had a fabulous afternoon on Sunday 25 February, will 44 people attending despite the rain. Everyone was very interested in the movie and the talk afterwards by Eran Weiner who gave a historical perspective of the people who came from overseas to volunteer during the War of Independence. We look forward to seeing you at our next event!
Sunday 10 December 2017
The Boomers Film Group had a very successful film afternoon on Sunday 10 December with more than 30 people attending to watch the movie Walk on Water followed by a lively discussion led by Netzer and Communal Shaliach, Dudu Gottlib. The film was both entertaining and thought provoking and it was agreed that Dudu's input enhanced the experience for all of us, as evidenced by the continuing discussion over refreshments.
Tue, 22 October 2019
23 Tishrei 5780
Upcoming Programs & Events
---
This week's Torah portion is

Parashat B'reishit
Erev Hanukkah
View Calendar
Tue, 22 October 2019 23 Tishrei 5780