Kids at North Shore Temple Emanuel
At North Shore Temple Emanuel, we value our role as a centre for lifelong Jewish learning and spiritual development within the synagogue, the community, and the home - and we know that it all starts by engaging with our youth!
We have a variety of activities available for children, from newborns to post B'nei Mitzvah. See below to find out more!
---
Shabbat Parents Group (0-6 years old)
Come join us for Parents Group. We welcome kids of all ages, carers, mums, dads, grandparents and interfaith families. We will be doing the Shabbat blessings and there will be snacks and challah!

RSVP to - parentsgroup@nste.org.au Please let us know if you have any allergies. See you there!
---
Apples & Honey Pre-School (3-5 years old)
Apples and Honey Preschool offers a caring and nurturing environment for preschool-aged children. We are an inclusive, community-based preschool providing children with quality, meaningful and inspiring education in a multicultural and progressive Jewish environment. Our Preschool community is diverse as we welcome children and families from all cultures, religions, and nationalities into our intimate 40 place setting.
We are open 50 weeks a year, Monday – Thursday 8am-6pm and Friday 8am-4pm and are closed on NSW Public Holidays, and for Jewish festivals. We do not charge for days where the preschool is closed. Find out more.
---
NSTE Young Families (Up to 8 years old)
Our Young Families Shabbat & Festivals celebrations are specially designed for young children up to eight years old and their families.
At every event, we reunite with old friends and welcome new faces. We encourage you to join us, and bring along a friend or two. Keep an eye on this space for upcoming events! To join the mailing list for Young Families Events please email parentsgroup@nste.org.au
---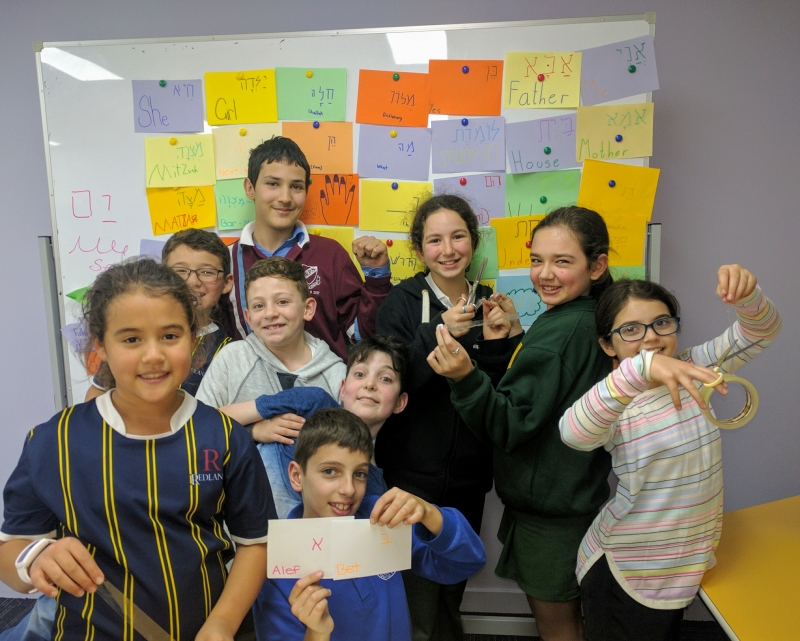 Meah Hebrew & Religion School (5 years to b'mitzvah)
Catering for children in Kindergarten through to Year 7, our Education Director, Rabbi Misha Clebaner, and his team of teachers are passionate about creating an environment for our students that will encourage them to strive for their personal best and develop their interpersonal skills.
We aim to nurture and motivate our students and encourage positive interactions with their teachers and fellow students. Find out more.
---
'Hands-Free' Tefilah (All Ages)
A joy for all ages, our quarterly 'Hands Free' Tefilah service is an engaging, innovative, liberating worship experience that frees participants from the printed page. Held in the Valerie Jaye Hall on a Friday night, these services utilise our state-of-the-art audio visual resources to project blessings and beautiful photos as a backdrop to our (even more beautiful) children, who lead the service along with the Rabbis.
Each quarter we celebrate the children's birthdays with blessings, singing, and chocolate cake at Kiddush! Find out more.
---
Bar & Bat Mitzvah Education
There are few things as joyful and soul-satisfying for a parent as watching a son or daughter take hold of the Torah and carry it through the congregation on the day of bar/bat mitzvah. It is a sublime moment. But it does not happen miraculously!
At NSTE, we believe the preparation for that moment is key to its magic. It is also the key to a lifetime of engagement with Jewish community, as it affords our children the skills they need to participate meaningfully in Jewish life cycle events of their own and of their loved ones, and starts them on a path of lifelong Jewish learning and lifelong Jewish living. Find out more.
---
Post B'nei Mitzvah Engagement
Every six weeks or so, our NSTE teenagers who form our Teen Torah Tag Team conduct the Torah and Haftarah reading for the congregation, while also sharing "words of the wise" (inspiration and encouragement) with our current B'nei Mitzvah students. Their participation is an inspiration! Teens will also be getting together for social gatherings and tikkun olam projects in 2020.
Teens are welcomed onto the Team immediately following Bar or Bat Mitzvah. Find out more.
If you have any questions about these activities, feel free to contact us on 02 9419 7011 or info@nste.org.au.
Mon, 5 June 2023
16 Sivan 5783
Upcoming Programs & Events
---
This week's Torah portion is

Parashat B'haalot'cha
Fast of Tammuz
View Calendar
Mon, 5 June 2023 16 Sivan 5783