Boomers' Monday Forum
Boomers' Monday Forum
Monday 9 September will be the last event planned for the Monday Forum. We have had some wonderful speakers who interested and entertained us, to each of them we say a sincere, thank you.

Rabbi Nicole Roberts was invited to contribute to a book recently published, The Closing of the Gates N'ilah, you may have read it, this article very much describes how I feel, another gate is closing. I was enthusiastic about organising this speaker series and I am sorry today knowing that our last event is coming up soon and this chapter will be complete. Thank you very much for your company and your patronage.
Agnes Matrai
Monday 9 September - Mrs Eva Fischl and Mr Phil Bos
Both well known in the Sydney Jewish community, Eva Fischl and Phil Bos represent the JOINT. Some of you may know the history of the Joint, for those of you who don't may I tell you my experience with the JOINT. After WW2 the United Nations Relief and Rehabilitation Administration (UNRRA) ran the Displaced Persons camps(DP), in Austria, Germany, and Italy. By request Jews were in separate camps, while the basics were provided by the UNRRA, all additional facilities were provided by the JOINT. The camps housed holocaust survivors, they had lost all their families and homes and had no desire to return to their countries of origin. In the late 1940's added to the original inmates were the people escaping from communism. I was one of the children in the camps. We were all hoping to immigrate to a country that offered us safety and an opportunity for a new start.

The JOINT's representatives were trying to restore community and normalcy, they looked after all our needs, providing books, Torah scrolls, prayer books, typewriters, medical facilities, candles, and funerals when needed, and much more. We were the broken refuse of Europe, they handled us with compassion and understanding. They were kind and thoughtful attending to the many requests with good humour.

Please Join us for this farewell event as Mrs Fischl and Mr Bos give us an overview of the JOINT's past and current activities.
Past Events
Monday 12 August - Evie Pikler, Jazz Singer And Rights Activitist
It was such a pleasure to welcome Evie Pikler as our guest speaker/singer and Michael Hope as her accompanist to the Monday Forum.

Raised in a musical family it was no wonder she chose to be a jazz singer. At 19 Evie went to Paris to be a model. Circumstance took her in another direction. She auditioned for a radio show and was accepted. Evie's voice was described by French critics as a blend of Josephine Baker and Edith Piaf.

Today many years later she retains that warm mellow sound. Her innate sense of fun shows in her face and cornflower blue eyes.
From early in her adult life Evie has studied with elders in Australia and America and has been Sharing the Dreaming on bush camps and workshops and thought extensively in schools in NSW. Such a reach and full life, but Evie is a done to earth and modest lady. Our Audience enjoyed her story and her beautiful singing.

Michael Hope was a concert pianist in England but a woman and life brought him to Australia. He plays regularly from Opera House events to David Jones in the city regularly. A wonderful personality and a flawless pianist and composer.

From the audience response I think we will welcome Evie back again soon.
Monday 8 July - From Adelaide to Uluru with Mark and Judy
Judy Campbell and Mark Ginsburg took us on a wonderful magic carpet ride, a 2500 kilometre journey from Adelaide to Uluru. Judy and Mark made this trip in preparation for the 2020 Australian Jewish Choral Festival. This is a very big undertaking, as Judy explained they had to test out where to stay, where to eat and where to perform. Besides all of that they have to make a plan B in case something goes wrong.

The country is breathtaking, beautiful and often barren. The photographs remind us of the huge continent we inhabit and how few of us live on this land. An emu proudly parades in front of the car and then stops as if to say "This is my street, please stop". Hundreds of kangaroos fall victim to cars and birds feed on the carcases. Nature's wonderful order, the food chain continues.

Judy told us the story of the Jewish opal miner now in his 70s, who has lived in Coober Pedy for forty years. His home is dug out from the side of a hill, he has windows in the outer wall and electricity. On a shelf he has candle sticks and two menorahs. He invited Judy and Mark for dinner and breakfast, then took them to a Serbian church dug out of the hillside rock. A large space, very impressive for this small community.

When they reach Uluru the rock is amazing, every outcrop and rock formation has legend associated with it. The beating red heart of Australia.
It reminded me of the beautiful Aboriginal Dreamtime paintings by Ainslie Roberts.

Mark and Judy thank you so much for showing us some of your trip and sharing the stories. I think the Choral Festival will be a great success because you are so very good at planning and the country is so unique.
Monday 17 June 2019 "Counting Teeth": The Use of Humour in the Rabbinic Literature
Dr. Simon Holloway delighted us with stories from our Rabbis of yore, pointing out the clever ways they injected humour into matter-of-fact rulings they made daily. When you look at our judges today, the length of time it takes for any case to reach the stage of judgement and how lacking in common sense some judgements are, we can only marvel at the intellect and understanding of our Rabbis of the past. On each occasion I have heard Simon Holloway speak he has opened secret doors to treasures contained in
biblical and old writings hiding in the pages ready to be explored.

Thank you Simon from all of us for a delightful presentation. I am so pleased to tell you that Simon is coming to
NSTE for four Thursday evenings in August to discuss the ancient sages. Sign up now, I have. This promises to be a wonderful learning experience.
Monday 13 May 2019
Today, we heard from Ana Deleon - one of the presenters for Courage to Care. Ana and her husband Gabi present their war time experiences, mainly to school children, at the Jewish Museum in Sydney and at schools in country and city areas.

For decades, no one spoke of their pain, deprivation, terror, hunger, lose of family, and lose of childhood. In the early 1990s, Steven Spielberg made a movie 'Schindler's List' and initiated the collection of thousands of interviews where survivors of the death camps were invited to tell their stories. Thousands of survivors took part - and Ana and her mother decided to take part and told their stories.

Ana joined the Child Survivors and later Courage to Care. "Is this therapeutic?" "No, it is heart wrenching - it doesn't matter how often the story is repeated."

There are many people today, only 70 odd years later, saying this never happened. We are the living witnesses to this genocide - the greatest crime against humanity. The organisation, precision of the execution, and documentation of the crime make it so appalling. That a civilized nation like Germany could harbour such immense hatred and put in place machinery specifically to kill human beings on such large scale is still not understood. Like the Exodus from Egypt, we must repeat our tragic story. Knowledge is the only way to never let this repeat to any more people on earth. Since the second world war, there have been wars and many mass murders, but the perpetrators are always uneducated bullies killing the innocent and weak. In Germany, there were well-educated and many brilliant intellectuals justifying genocide with the well worn phrase "We were following orders".

We, as Jews, must be at the forefront of racial and religious tolerance in our society. I commend Ana for her courage to tell this unhappy story to strangers over and over again.
- Agnes Matrai

Monday 8 April 2019
We had a very interesting, interactive discussion with Issi Aaron at this month's Monday Forum.
He totally demystified hypnotherapy for us. Issi is a very knowledgeable and charming man. He engaged us all in the conversation and each participant willingly contributed their thoughts and experiences with therapists in the past.

The wonderful message we all took from the conversation was that we witness and are recipients of miracles each day - but we must be open to receiving and recognising these. Our minds are powerful
tools and we can use our minds to heal ourselves. This means if you approach a health problem with a positive view and work with your doctors, you will have a good outcome. Even in the most difficult cases, you can have a better outcome if you avoid seeing only disaster.

We were all so engaged in the conversation, we ran 30 minutes overtime!
Issi - thank you so much. We hope to see you again soon.
Monday 11 March 2019
Dr. Lisa Sarzin delivered a thought-provoking, informative talk on the Protocols of the Elders of Zion at the Monday Forum.
Most of us knew a little about the history of the totally fabricated document called the Protocols of the Elders of Zion first published in Russia in 1903.
After giving us some background, Lisa explained how a court case in South Africa in 1934 proved that the Protocols are totally fake. With war clouds gathering in Europe, a fascist organisation, the Grey Shirts, in South Africa accused a synagogue of trying to enact the Protocols. Rabbi Levy the rabbi of the synagogue, coincidently Lisa's great grandfather brought a defamation case against the accusers, Van Moltke and friends and won the case. This was a landmark decision . Lisa transported us into the courtroom making us part of the drama.

Jews have always been accused of outrageous acts without proof, so we know that intelligent people gave oxygen throughout the generations to lies about Jews. The only way to combat lies is to be well informed and be able to repudiate the lies with facts. We must not remain silent hoping that good sense will prevail. Too many times in our history we were afraid to raise our voices against oppressors, when we finally did speak we cried out but it was too late. Only our physical freedom was gained when we came out of Egypt, our emotional freedom came several millennia's later when we were voted legal rights to a homeland in Israel.
Monday 11 February 2019
We were privileged to hear an Introduction to Islam at the Monday Forum in February. This topical subject is huge and cannot be covered in an hour. However, our speaker very cleverly discussed the key points, thus allowing the interested and studious among us to research and find out more.
We were led through the origins of Islam, introduced to the basic texts, learnt about the main pillars of beliefs and actions, and some common Islamic terms were explained. Of particular interest was the history of Islam in respect to the Jews, ranging from the Quran to the Arab-Israel conflict. And finally, we learnt a little about Muslims in Australia.
Thank you for joining us and many thanks to our speaker.
Monday 19 November 2018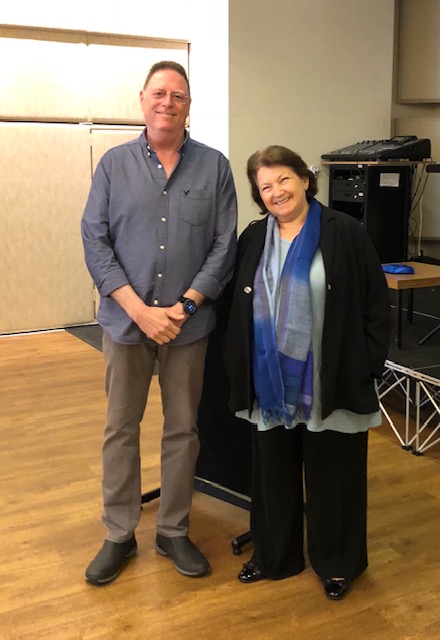 A keen and enthusiastic group gathered to listen to Dr. Ron Weiser AM discuss Israel's Current State. Dr Weiser has held and continues to hold a number of impressive, influential positions with the Zionist Federation of Australia including Past President for 10 years. Now a member of the Board of Governors of the Jewish Agency and Committee member for Unity of Jewish Continuity, Dr Weiser has his finger on the pulse of Israel's current state.
During the talk, Dr Weiser raised a number of key questions and comments including
What to do about Syria/Iran/Russia
What to do about Gaza
Will there be an Israeli election in March rather than November 2019?
How is the Prime Minister elected?
The situation is clearly complex.
Dr Weiser told the group that Israel is booming with an impressive 3.3 secular birth-rate. Aliyah to Israel is at a record high. The Australian/Israel Chamber of Commerce is enjoying a very strong bond and there is great confidence in the relationship. The attendees left feeling more informed and enlightened.
The final Boomers Monday Forum event will be Monday 3 December 2018 at 10 am. Julie Nathan will be presenting highlights from her recent Anti-semitism Research.
Monday 5 November 2018
Why Be Jewish?
How you can keep the next generation from giving up its birthright?
These questions, posed to our Boomers Monday Forum audience by Rabbi Nicole, created immediate attention and response. Research shows that the grandparent - grandchild relationship, due to its very special nature, has a great influence on Jewish identity, practice, and affiliation. The affection grandchildren feel for their grandparents creates an affection towards Judaism that holds the potential to keep the next generation in the fold. Grandparents play an active role in shaping and anchoring grandchildren's Jewish identity.
So the good news is that much of what many of us currently do as grandparents is on the right track. Getting together for Shabbat dinner, sharing the festivals together, sharing memories of our past, eating traditionally Jewish food, and engaging grandchildren in Jewish and traditional activities, shape our grandchildren, Jewishly. Share more. Share often. Consider extending to include grandchildren in participating in your Tzedakah or Tikkun Olam activity. Tell them they are in your prayers. Feed them your favourite Jewish dishes. Tell them about your life and what has helped you navigate it - this will, one day, help them navigate theirs.
Rabbi Nicole went on to share an age-old Jewish practice, that of creating a Tza'va'ah—a written 'Spiritual Ethical Will'. Often written in the form of a letter to one's descendants, the Tza'va'ah is an opportunity to share your values, why Judaism is important in your life, and why it is important to the world. It can be shared for generations to come and across great distances, providing invaluable, guiding wisdom for your family. Today, some choose to make recordings (voice or video). NSTE can help, should you decide to do this for your descendants.
The group shared some amazing stories where this is already in practice and the impact has already been felt. Today's session was truly uplifting for us 'grandparents'.
The the last two Boomers Monday Forums for 2018 are 19/11/18 with Dr. Ron Weiser, Zionist Federation Australia and 3/12/18 with Julie Nathan, Research Officer for the Executive Council of Australian Jewry (ECAJ). We hope you can join us.
Monday 22 October 2018
At the 22 October 2018 Boomers Monday Forum, attendees were entertained and educated as Judy Campbell and Mark Ginsburg shared their November 2017 Cuban Musical Experience.
Invited to Cuba by Coro Austral, a skilled chamber choir group specialising in the authentic presentation of Latin American choral works, Judy and Mark were part a small tour group of 15 choristers. The 3 week adventure covered most of Cuba including Havana, Viñales, Cienfuegos, Camaguey, Trinidad, Santiago de Cuba and Baracoa.
Through photos, videos and stories, Judy and Mark shared their personal journey which included workshops with a choir director, a cappella groups, different local choirs, percussion, dance classes, stunning rural landscapes, and quaint towns with a mix of very old and modern architecture.
Their accommodation included local 'Casas', legal and regulated B&B's, where breakfast was incredibly abundant. Mojitos, Ron (rum) and coffee were all part of daily life. People are treated equally and all are provided with basic food and shelter, education and medical support. They attended Shabbat at a small sephardic temple and Sarona (also on the tour) arranged for a box of 'typical Jewish items' they find hard to source to be mailed to them from Sydney. Wifi is found mainly in a common 'box' in the town squares. Transportation ranged from modern Chinese luxury busses to classic 50's cars (with a variety of alternative engines), typically being passed down from one generation to the next and maintained with great pride, to even horse and buggy. I
t was the one year anniversary of Fidel Castro's death so they participated in significant recognition activities. Musicians performing on the street was a common occurrence and daily plans could change at any time, creating the need for flexibility and tolerance. Tourism is the number 2 industry in Cuba and after Judy and Mark's stories, it's not a surprise.

Monday 8 October 2018
Our speaker at the Monday Morning Forum this week was Doron Lazarus, a passionate advocate for Magen David Adom. Doron so ably explained many aspects of the unique Israeli volunteer ambulance service that most of us have never heard of.
Israel, a tiny speck on the map, facing hostility from her neighbours and difficult circumstances since inception, is a jewel among the nations. Why does this tiny nation produce so many capable leaders in diverse fields such as industry, commerce, medicine and technology? Because every young person goes for army training, and each person is forced to make decisions. While in other countries many young people "take it easy" at tertiary institutions (with many simply wasting time), a young Israeli at 20 or 22 is often better prepared to take on a leadership role.
The ambulance service is unique on every level, as Doron related a few of its unusual activities. Many of the 13,000 plus volunteers are between 16 to 19 years old, well-trained young people who are able to give first response assistance. Those who are too young to drive have special bicycles with a yellow box at the back containing their first-aid equipment. Because Israel is truly a multicultural nation, the paramedics are trained to understand keywords in twelve languages. Doron explained how Magen David Adom is utilising technology that enables them to arrive at emergencies within eight minutes: A call comes into the call centre, the location of the call is tracked, and this location is sent to all personnel in that area, with the nearest available first responder being dispatched. In an emergency situation, these few minutes of extra time are critical in saving lives. Magen David Adom treats all injured people without bias for origin or religion. MDA trains paramedics from other countries. This is a huge accolade for MDA, and has led to the widespread recognition of their quality training methods.
A few of MDA's projects include:
The building of an underground blood bank storage facility to safeguard the availability of blood in case of a major attack
Special paramedics run a service for patients with major health problems who need to get to a special occasion (such as a wedding or Bar Mitzvah), in which the patient is picked up and taken to the event before being returned home afterwards
Recently, a mother's milk bank has been established for babies unable to be fed by their mothers. Lactating women contribute their milk to save babies.
The story of Magen David Adom is a heart-warming, humanising tale of people truly understanding the meaning of Tikun Olam. What an honour it is to be part of the Jewish people. Doron, a sincere thank you for speaking to us today.
- Agnes Matrai
Monday 27 August 2018
Cantor Ted took us behind the scenes of American music and introduced us to some of the composers and lyricists behind the great hits of the 20th century affectionately known as The American Song Book. An overwhelming number were Jewish, some came from Europe while others where children of immigrants. All had talent and the will to succeed.
Young and old, we all know some of their work and love the fire, passion, and musicality and poetry in their work.
Born in the USA, Sammy Fain was a son of a cantor and self-taught pianist with more than 30 films to his credit. He was nominated for nine Best Original Song Oscars and won two. Some of his songs are "I'll be seeing you" and "Secret love." He was also inducted into the Songwriters Hall of Fame.
The Gershwin brothers of Russian parentage were both supremely talented. The Library of Congress in the USA has a Gershwin Room in honour of George. Ira won the first-ever Pulitzer Prize for a songwriter, with the song "Off thee I sing".
Cantor Ted - thank you so much for taking us on this musical discovery trip. We were delighted with your intimate knowledge of these amazing artists and their work.
- Agnes Matrai

Monday 13 August 2018
We spent a wonderfully informative hour on Monday with Dr Simon Holloway, who spoke about the Talmud. The creation of this pillar of Jewish learning came about from years of work in seats of higher learning in both Palestine and Babylon, where they discussed the rules and laws of Judaism. The Talmud is the summary of oral law organised in 37 Tactates,or massekhtot, but it is much more than that - it is the repository of thousands of years of Jewish wisdom. It's a blend of law, legend, philosophy, logic, and shrewd pragmatism of history and science, anecdotes and humour.
The talk made me think how lucky we are to be Jewish. We have so many great gifts, and the foremost is keeping Shabbat. In this world of everything being 24/7, on Shabbat we can and should leave the mobile and TV off, and talk to family and friends instead, attend shul where we can and meet our fellow congregants, and enjoy the prayers, singing and schmoozing and refresh ourselves for the coming week.
Simon, you wet our appetites for much more- please come again soon! And to those who have not yet attended our series of Monday talks, please join us next time.
Our next gathering is on Monday 27 August with guest speaker, Cantor Ted Labow.
- Agnes Matrai
Monday 30 July 2018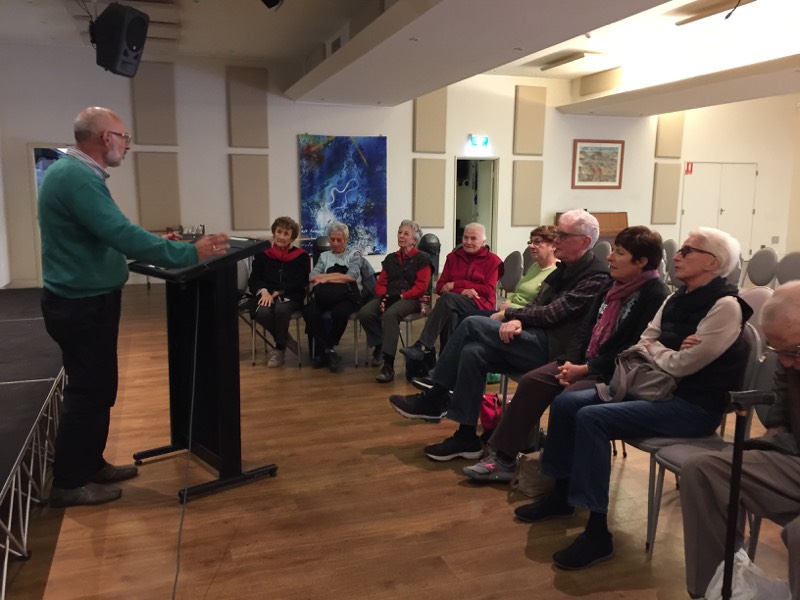 At this week's Boomers Monday Forum, we enjoyed a refreshing view on Germany from Stephen Freedman. Stephen gave us insight into the current situation in Germany, with many Jews returning and coming from Israel and Poland. He spoke of the delightful small town where he goes to help children improve their English and how warm and accepting the children are of him.
Most of us who lived through the Second World War can't get beyond the pain when we visit Germany and Austria. We see the beauty of the landscape, the wonderful music and art, but it is tainted. Stephen, born in Australia, is looking through a new lens - he is interested in reconciliation. He is correct; we must all understand that three or more generations have grown up since the war. They are blameless, and we cannot continue to ask them to pay for their grandfathers' sins.
Thank you, Stephen, for a very enlightening and thought-provoking talk.

Monday 16 July 2018
Monday morning was one of the coldest this winter in Sydney, a group of us assembled in anticipation of hearing Justin Schaffer speak at our Boomers' Monday Forum.
Justin described in vivid detail one of his business trips behind the iron curtain to the then Czechoslovakia. A spine-chilling time in history, he transported us with him to that time and place.
Justin - thank you so much for your first-hand insight into the communist regime and the circumstances at that time in the country. We were all left wanting to hear more!
- Agnes Matrai
Monday 2 July 2018
Our Boomers' Monday Forum were privileged to hear and see a presentation about our ANZACs in WW1 in Palestine.
Presented by Peter Allen, who is the National Coordinator for the Centenary of ANZAC Jewish Program, we learned about the bravery of our cavalry and infantry in a number of battles; the most notable capturing the Yildirim Army Group Garrison at Beersheba - a decisive victory.
We also learned some interesting facts about the 135,000 horses sent from Australia to the war, with many killed in action. At the end of the conflict, the remaining horses went to the British army, with some taken to India, some sold off, and 2,000 were shot because they were in bad condition. Transport costs were prohibitive, and the army was reluctant to give them to the Arabs. Only one noble beast was returned to Australia.
The seed for a new nation, Israel, was planted at this time when the Belfour declaration was announced; promising us a homeland.
It was a very insightful morning. Many thanks to Peter!
- Agnes Matrai
Monday 18 June 2018
What a fantastic launch event for our Boomers Monday Forum!
Eliza McCarroll's, "These are a few of my favourite texts", was the first of many guest speaker series events at the fortnightly sessions.
Mixing educational context with small group discussion, the session was not only well-attended but also clearly captivating.
Eliza shared four texts with the group, explaining the liturgical significance and application, the Lithuanian Jewish situation and many personal stories including challenges and highlights during her first year of Rabbinic Studies at HUC in Israel.
Tue, 22 October 2019 23 Tishrei 5780